Ita Bags is one of the most sought-after pairs at the moment and does not have a signal to cool down. It is more and more creative in different shapes, styles, and colors to responsive to the wishes of the fans. So, in this post, let's you can review the top 5 best-looking Ita-bags on the Ita Bag World.
1. Ita Bag Japan Style 2020 Shoulder Lolita Backpack
Is a classic product in Ita Shoulder Backpack, this bag always becomes the top choice for Ita Bags and Fashion follower.
This backpack measures 28.5cm by 8cm by 37cm, length of the handle, and width of the bag mouth are respectively 24cm and 41cm, so it will give you plenty of space to store other necessities in addition to your merch. It is large enough to hold a laptop, your purse, books, and more.
This ITA bag is made from canvas leather with a nylon lining. It is also both durable and lightweight, so it will be your new favorite companion.
Two zippers will allow you to keep your belongings organized. Inside the main pocket (bigger pocket), you can hold your phone, credit cards, or other smaller items in a smaller slot pocket.
Besides, the smaller pocket outside is enough for you to store items that are in urgent need like money, key,… When you place your treasures inside of this zipped compartment, you won't need to worry about them falling off and getting lost, like you would with a normal backpack.
The nylon crystal-clear front section is large and can hold a lot of pins and other accessories to show off your style. You can purchase this lovely Ita Bag in many various colors.
With 8 different colors, you have more options to choose the bag to best match your personality or complement your collection. It asserted its position with these followers.
Another type of Lolita bag but this time it's a very comfortable miniature version. With the shape of a very unique coffin, this briefcase completely attracts everyone's eyes for the first time. If you are someone who likes unique and mysterious items, this bag is absolutely the choice you should add to your collection.
The unique Coffin-shaped ITA bag can be worn as a purse or a cross-body bag. It is 15.3 inches wide, 15.3 inches tall, and 5.5 inches deep.  Format package: 1 bag only (not include Other Accessories.) The main material is made of PU and the main surface is a transparent plastic that makes people look at the accessories they decorate inside. You can set your small favorite doll in this bag.
The color maybe a little different due to the effect of light and monitor setting. It also includes 5 main colors, each color has a unique beauty and shows its own style. This bag can be purchased in Black, red, pink, white, and brown.
A completely different pair shape from the two models introduced above and also the most popular choice for all of its convenient functions – the Ita backpack. Although it differs in shape, its decoration or function is quite similar to the first I introduced above
This bag is 30cm by 10 by 42cm so it will provide you with plenty of space to take all of your essentials, including a laptop, books, phone, makeup, and more.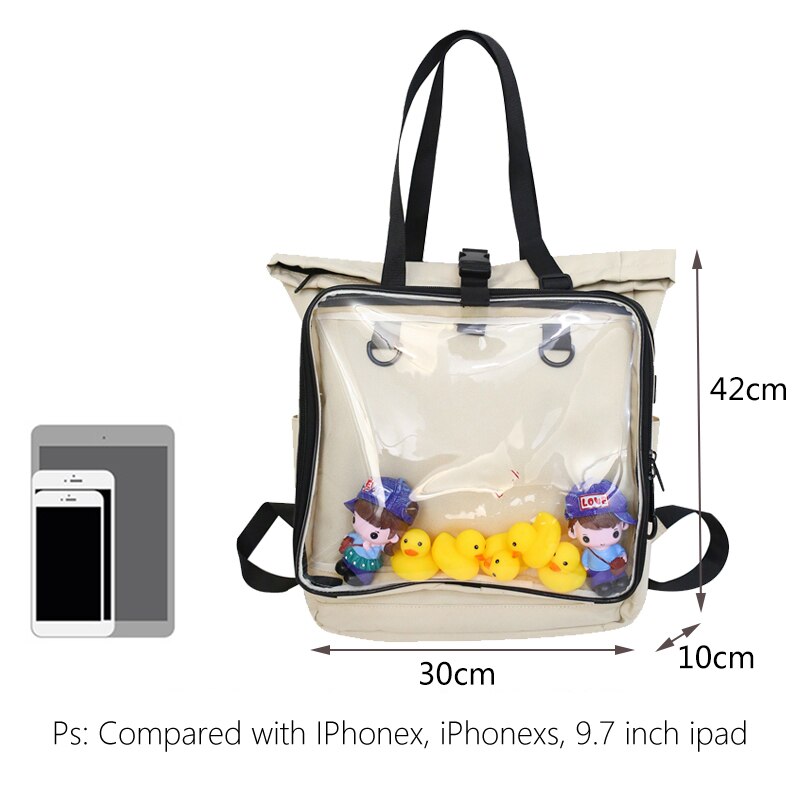 This bag has also two main compartments. Inside the main compartment (larger pocket), there is a smaller-slot zippered pocket as well as two card pockets. The front also has a large, clear zippered compartment where you can proudly display your pins, plushies, and other treasures. With the extremely strong and durable Oxford material, you can also clean this bag easily.
This backpack is only available in two popular colors. However, with these two basic colors, black and white, you can easily match your daily outfits and your decorations as well.
The 2020 Mini Crossbody Crossbody Bag is a great option to consider if you are looking for a smaller bag. This bag is designed to be worn as a cross-body bag. It is 15cm wide, 22cm tall, and 9cm deep.
There are two zippered sections in this bag. The first is the large zippered main compartment where you can take your wallet, keys, phone, and any other items you need.  The bag is completely suitable for outings. The remaining zippered compartment is the crystal-clear front section that will hold your pins, stickers, plushies, and other merch.
This bag is made using durable canvas leather. It has streamlined stitching to help ensure that the bag stays together and will last a long time. There are many colors you can purchase: black, blue, pink, or white.
The final product I want to introduce to you is the bag that is convenient and suitable for many people on different occasions like this. It is 26cm wide, 36cm tall, and 8cm deep.
Like other Ita Bags, this bag also has two main zippers compartments. With a larger compartment, the inside can hold a lot of different things such as your computer, books, purse, or even your clothes.
The smaller compartment is still transparent outside, and this briefcase is accented with extra fabric upholstery on the large compartment, and two more cat ears on the back. They really look like cute cats.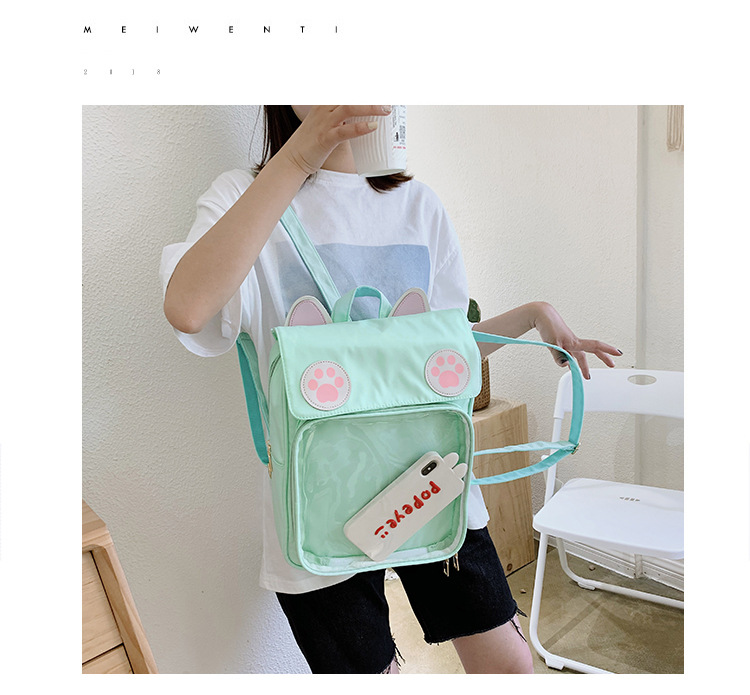 This bag is made using PVC leather. So it is durable and sturdy. There are also many options for the color you can choose like black, yellow, purple, light green, light blue, and pink.
In general, Ita Bags comes in a variety of patterns and different colors you can choose the one that suits your style. You can find more samples of Ita Bags at Ita Bag World.